Description
Anti-squashy Toe: Built-in steel toe provides enough buffer space to avoid crushing and smashing by accidental collision. 
Composite Safety Toe. Identifies protection against impact and compression hazards with a composite (non-metallic) safety toe. 
Puncture-proof: Steel-toe sneakers with puncture-proof midsole built to protect your feet from being punctured by sharp objects such as iron nail.
Polyurethane Sole: Non-slip and flexible rubber sole provides great grip on slippery ground and excellent shock absorption.
Lightweight & Breathable: The safety boots are equipped with a breathable mesh upper, offering super ventilation experience to keep your feet dry and cool all the day.
Multiple Uses: Suitable for people who work in industries, construction, agriculture, landscaping, ranching & fishing, machinery.
(1)ADVANCED STEEL TOE PROTECTION

The advanced steel safety toe protection design giving protection from dangerous falling objects. It can also endure sharp or pointed objects and withstand brutal force from falling objects. With a steel safety toe are total comfort, protection, and support. The rubber edging and anti-rust paint make it durable and comfortable to wear.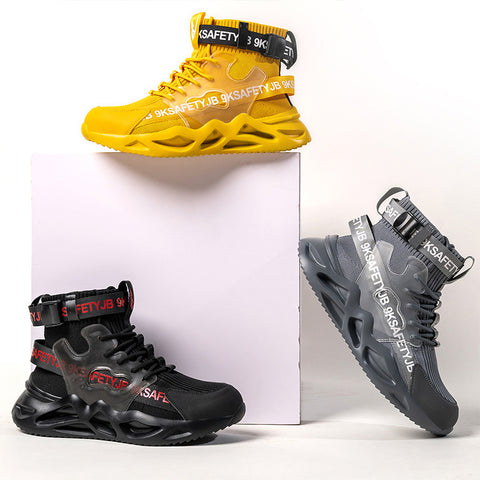 (2)KEVLAR PUNCTURE PROOF MIDSOLE
   
The Kevlar puncture proof cushioned midsole supports for construction work, warehouse worker added support and shock absorption. The flexible puncture-resistant midsole plate also helps for underfoot protection. The shoes meet safety standards of midsole that meet the needs of those who work in demanding environments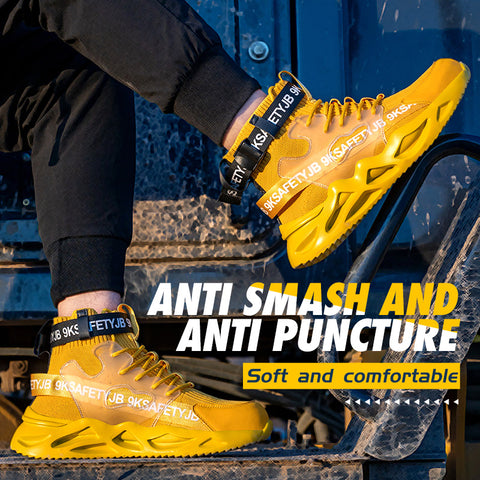 (3)LIGHTWEIGHT & FLEXIBLE
The shoes are lightweight, soft, flexible and not easily broken. Men Safety Work Shoes have soft insoles and grippy rubber outsoles for maximum comfort. These shoes are inspired by athletic design to making them exceptionally flexible that fit for challenging industrial jobs or any other activity. Features a linen upper that is sweat-absorbent and breathable for all-day comfort.
(4)TRENDY & STYLISH DESIGN
These safety work shoes are a perfect blend of comfort and style. A kind of best military-grade shoes that smartly designed to look like normal fashionable shoes and you can wear them on any occasion also. They also have tweed extensions, the most striking attribute of these power shoes, which are from sturdy embellishments.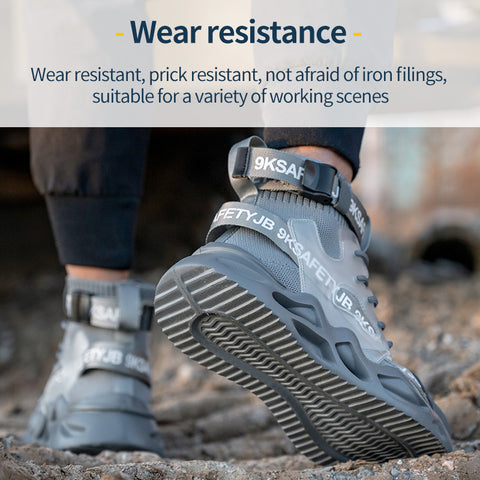 (5)SLIP-RESISTANCE
You can work confidently even on slippery surfaces with these slip resistant safety shoes. Features soft, wear-resisting and prevent slippery effect that let you walk each step in relaxing mood. So, stay comfortable and steady on your feet all day long with the reliable durability and anti-slip support.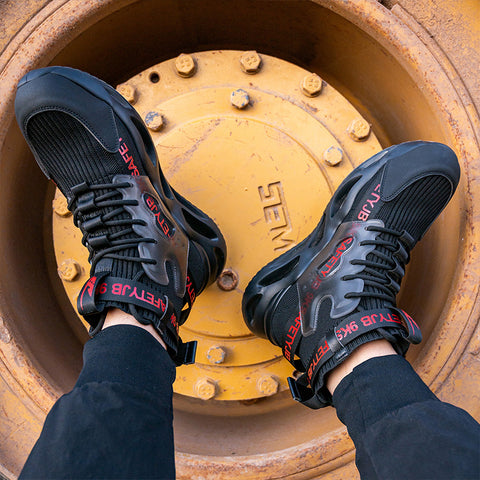 (6)OIL-RESISTANCE
The oil-resistant traction outsole creates a cleat effect using micro-glass filaments for increased traction on wet or oily surfaces. The outsole can give you total protection from the oily place. It can definitely improve the safety of walking and working at night.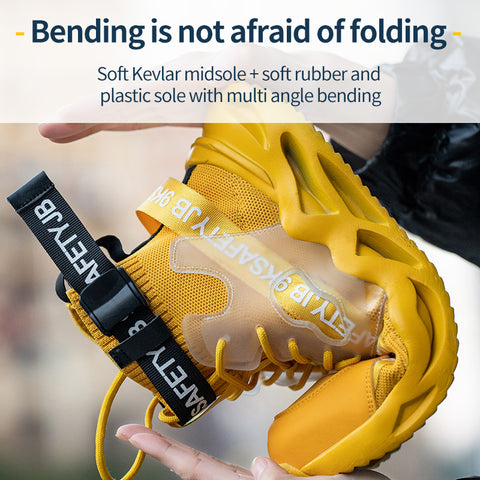 (7)WATER RESISTANCE
Safety Shoes have a water-resistant, breathable membrane liner to keep your feet dry and comfortable. They also transport moisture away from your feet so they stay cool and dry. They have also a breathable membrane liner that keeps your feet dry and comfortable.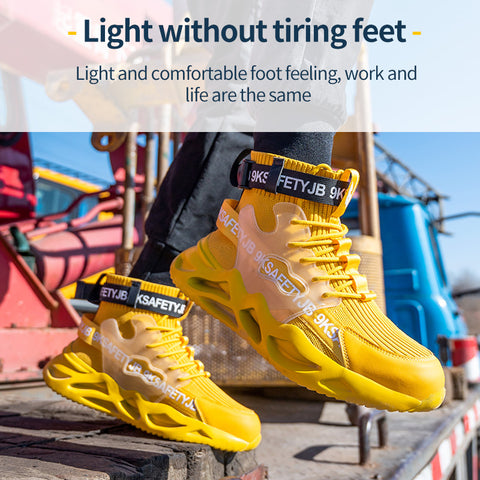 (8)ANTI-STATIC
These working shoes are durable for the extreme anti-static feature and enough to hold up to the rigger of hard labour. The outsole is very strong and durable to provide much more comfortable and easier movement.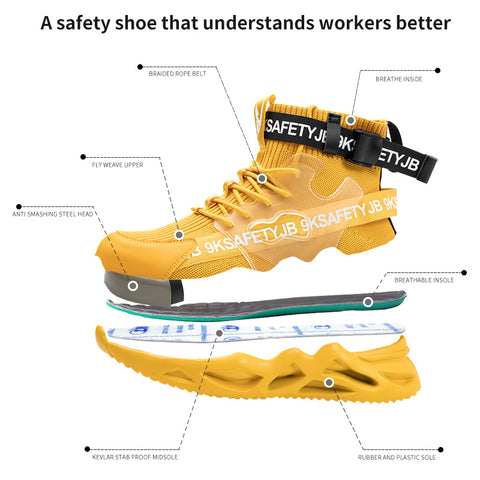 (9)ENERGY ABSORPTION OF SEAT REGION
The energy absorption of seat region work shoes comes with a dual-density, shock-absorbing foot bed that will cushion you with every step confidently. The seat region will massage your feet as you walk, and promote greater blood flow to reduce fatigue for moving your every step perfectly.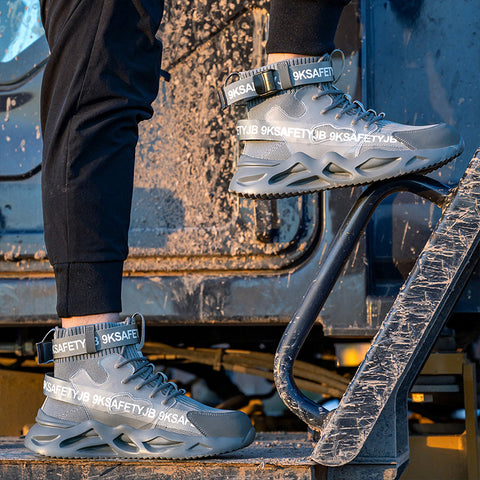 (10)DURABLE CUSHION FEET
They are finished with ultra-comfortable cushioning. They have been given a modern update with a comfier fit. The soft cushioning provides you all-day comfort. The lightness of the cushion makes it indispensable and the absolute favourite accessory.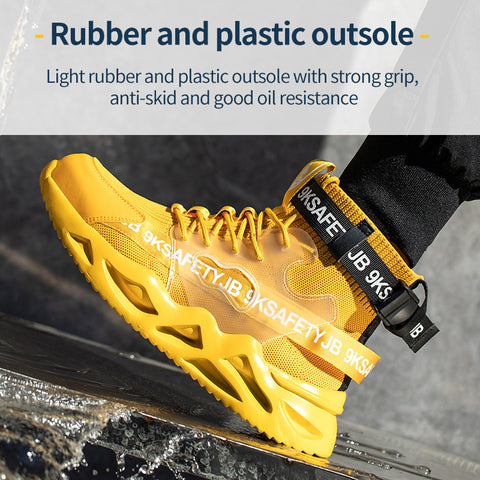 (11)EXCLUSIVE BREATHABILITY
The safety work shoes have been given a modern update with a comfier fit. These heavy-duty steel toe work shoes are made of durable mesh. These are the most premium and breathable shoes for the trail that we can provide. Improved durability while the shoes are not too heavy and reducing the burden of work.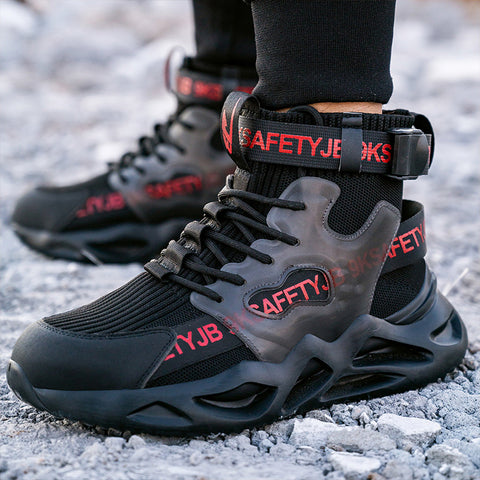 SIZE CHART:
MEN'S / WOMEN'S FOOTWEAR
US Men's
US Women's
EU
IN
CM
5
7
35
8.86
22.5
5.5
7.5
36
9.06
23
6
8
37
9.25
23.5
6.5
8.5
38
9.45
24
7
9
39
9.65
24.5
7.5
9.5
40
9.84
25
8
10
41
10.04
25.5
8.5
10.5
42
10.24
26
9
11
43
10.43
26.5
9.5
11.5
44
10.63
27
10
12
45
10.83
27.5
10.5
12.5
46
11.02
28
11
13
47
11.22
28.5
11.5
13.5
48
11.42
29
12
14
49
11.61
29.5
13
50
11.81
30
Due to monitor settings and monitor pixel definitions, there may be slight differences in the actual color of the product.
1X Teenro fashion steel toe sneakers

AFTER-SALE SERVICE
Full refund within 30 days without reason.
Shipping>>Worldwide Express Shipping Available.
Payment With Pay Pal and Creditcard

Shoes Men's women's sizes
Please note: Before placing an order, according to the size of the shoes you are wearing, buy the right size for you to avoid the shoes not being worn due to sizing .
1. Men's normal size purchase
2. For women, please check the table and buy according to the EU size, we recommend to choose 0.5 size bigger and select the corresponding size on the ordering page.
Teenro shoes/boots fit true to size for most feet. If you have extra wide feet, we recommend buying the next half size up.
MEN'S / WOMEN'S FOOTWEAR

US Men's

US Women's

IN

CM

5.5

6.5

36

9.06

23

6

7

37

9.25

23.5

6.5

7.5

37.5

9.45

24

7

8

38

9.65

24.5

7.5

8.5

39

9.84

25

8

9

40

10.04

25.5

8.5

9.5

40.5

10.24

26

9

10

41

10.43

26.5

9.5

10.5

42

10.63

27

10

11

43

10.83

27.5

10.5

11.5

43.5

11.02

28

11

12

44

11.22

28.5

11.5

12.5

45

11.42

29

12

13

46

11.61

29.5

13

14

47

12.01

30.5

14

15

48

12.4

31.5
DOESN'T FIT?
If it doesn't fit, return it within 30 days, as long as it's unworn, unwashed and unaltered.
Lightweight Comfortable Steel Toe Cap Work Safety Boots | JB7719