What is Dropship?
Dropshipping is a business model in which the retailer benefits from selling products to customers then ordering products from drop shipping providers (eg: Teenro shoes – wholesale safety shoe suppliers drop shippers ). The only thing you need to do is pass the orders to Teenro shoes. Customers will receive the ordered products directly from Teenro shoes. This process minimizes the risk to you, you don't need to buy the product until it has been sold. Teenro shoes takes care of the warehousing, packaging, and shipping of products, saving you money and time. Your profit in the transaction is the difference between the Teenro shoes and your retail prices of the items sold.

How does drop shipping benefit you?

Drop Shipping is an easy way for you to start earning profit by selling quality products. By listing our products on your website and taking advantage of Drop Shipping, you will:
• Become a worldwide e-commerce retailer at a low cost with no risk.
• Offer a wide selection of products without the need to purchase or store inventory.
• Select product types on Teenro.com and determine your own retail prices and profit.
• Have your products packaged and shipped to your customers by us at no extra cost.

The detail page of each product has a 'Download Product's Images', which provides the picture of the product for customers to download.
Please see the picture below.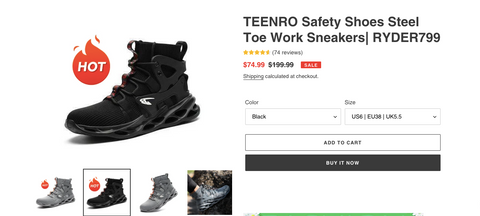 1. How does your dropshipping work? Who will be the sender?

In order to make the packages pass customs smoothly, the sender will neither be us nor you, it will be a person who works in FedEx, DHL, UPS, and EMS. For DHL, the sender can only be Staff names and our Chinese company name (without our website address or Teenro).

2. I'm afraid my customers will know your website if I use dropshipping?

Do not worry that your customers will know about our website. We won't write the sender as ourselves, and there won't be any information about us in the package.

And We also did not do retail business on our website.

3.Do you offer Blind Dropshipping-without sending an invoice and any associated marketing materials in or on the packaging to our customers?

When you place the order, please E-mail us or leave a message on our website that it is the DROPSHIP order.

Then our people would not place any the invoice documents of TEENRO in the parcel.

4.Do you offer Bulk Dropshipping?

Yes, we do. Also, our MOQ is 1 piece.

5.Are you able to apply my company's logo to the products?

The Teenro – wholesale safety shoe suppliers drop shippers accepts customized shoes for our clients.

6. Returns & Terms

We attach importance to the quality of products and services, so before sending the parcel out, we have to check the product twice again and packaging by ourselves.

How to deal with, if the item is defective?

We are sorry that the item is defective, and we will actively deal with such incidents. We also need your help.

First: If the item is defective, please notify us within 3 days of delivery.

Second: Please shoot the picture of the item that is defective, and then send the picture to us by email, so that I could submit them to our Technical Director after she checks and agrees, we will add the news to your next order for free.

Third: If we could not Identification. All items must be returned in their original condition, to qualify for a refund or exchange of goods. The buyer is responsible for all shipping costs incurred. But to compensate for the loss of customers, through our assessment, we will give you some more discounts on the next order.

Return or cancellation policy

To provide more convenient customer services, we accept returns and order cancellation within 12 hours.

You can contact with email at first or directly check more detail on our site: www.Teenro.com

After you place the order, please tell us which of your order numbers is a drop shipping order through our online chat in the lower right corner or by email. Our email is xiexinlin@teenro.com

We look forward to doing business with you.