There are a variety of work boots available that offer excellent durability, comfort, and special features that make them suitable for various job sites. Steel toe work boots provide the highest level of protection from foot and ankle injuries, while composite toe boots are a good alternative for those who want something lightweight yet still protective. Electrical hazard (EH) boots offer insulation from electric shocks, making them ideal for workers in higher risk environments. Additionally, waterproof work boots feature waterproof materials and a waterproof membrane to keep your feet dry and comfortable. Boots with metatarsal guards protect the vulnerable metatarsal bones in your feet from impact or compression injuries at work. Finally, breathable mesh upper designs keep air circulating to cool your feet and reduce sweat.
When it comes to finding the most durable and comfortable work boots, you want to consider looking for those that are specifically designed for the job you need. Depending on the situation, you will require different kinds of boots; for instance, if you work in a wet environment you want boots that provide more protection from water, whereas if you are working at a higher level you would need sturdier shoes that can protect your feet from rocks and debris. 
It is also sensible to consider what type of sole the shoes have. Some soles have better grip than others and it's important to ensure they are good quality and strong. You should also make sure they have shock absorbing outsoles, which help reduce impact and protect your feet. If you have wide feet, it's also wise to look for boots that fit wider widths. 
Also consider the materials of the boots; sturdy leather or synthetic materials will provide the best protection against wear and tear and provide a better overall durability. Additionally, look for boots with composite safety toes which provide extra safety for your toes. Nylon mesh lining in the upper helps to provide more breathability, which is important during long hours of wear. 
You should also look for waterproof uppers, along with supportive insoles, which offer cushioned comfort throughout your day. It's also wise to go for non-metallic construction which offer extra flexibility and ensures that your feet don't get overly hot. Lastly, look for heel stabilizers which guard against lateral movements when working on uneven ground.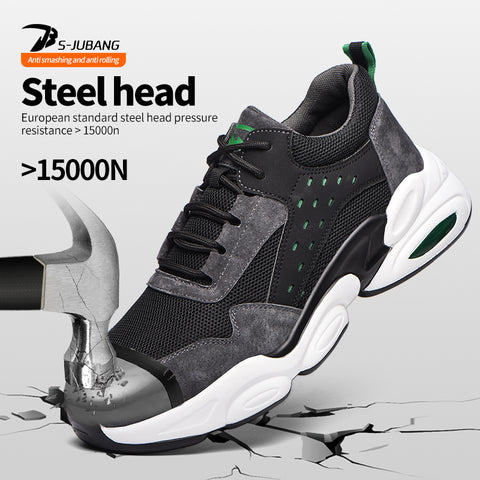 Combining all of these features together will ensure that you get a long-lasting pair of work boots that are as comfortable as possible. In addition, you should try them on properly before purchasing them and ensure they fit you correctly. If they don't feel right when worn in store, chances are they won't feel right when they are put to proper use. 
By taking the time to research and properly select the most durable and comfortable work boots, you will be able to get the most out of them when used in the workplace. The right item of footwear can ease backaches and aches related to work so it is important to select one that is perfect for your particular job requirements.