Welding work shoes are protective products tailored for welders to protect their feet from harm. In fact, there has not been a definitive conclusion, today Teenro will take you to learn more about welding work shoes.


I think the people who use them have the most right to speak about the quality of welding work shoes, take our Teenro, choose our customers: Lincoln Electric, EWM, SAF-FRO and REHM and other well-known companies have been using our welding work shoes, we are also improving according to customer feedback to improve customer satisfaction, and our work shoes Every year we iterate to ensure that our shoes are always at the forefront of the market in terms of style and quality, so you can buy them if you need to, and we can also customise our safety shoes.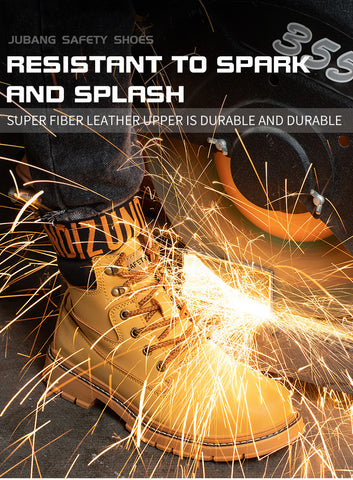 How to pick high quality welder's work shoes

1, welders work shoes first look at its upper material whether the sparks splash, can not be used twice to be scalded
2, secondly look at whether its package head is smash-proof, with or without anti-puncture midsole, to protect the foot while also effectively increasing the foot's activity space, so that the toes are more comfortable.
3, to see whether the sole is wear-resistant and anti-slip, wear-resistant and anti-slip degree how, because many welders are standing on the steel, only good quality to ensure safety.
4, and finally look at how the processing process, is not more elaborate, if the lines are not smooth, uneven workmanship, this also belongs to defective products.



Teenro welding work shoes have a special R & D team design, and then have their own production base production, quality and quantity, and for some special needs of users, we have a professional master team of open version for you to open the version of customized products, from the upper to the lining, materials have specified can be mentioned with us, our service concept is to make customer satisfaction, so if you need to come to us, so you can feel free to find us. It is our pleasure to serve you.


The main reason for this is that there are many non-standard products on the market, three or no products, which are sold to workers and companies who urgently need them and want to buy low-cost shoes because they are inexpensive and the company does not reimburse them. However, the workers who choose such products ignore the important safety issues, resulting in the occurrence of various safety accidents such as feet being smashed/studded through while wearing welder's work shoes, so we should pay attention to safety when buying welder's work shoes is the first priority, pay attention to the qualification certification of the seller, and never try to buy cheap products.




Translated with www.DeepL.com/Translator (free version)