What is safety shoes?
It is the collective name of safety shoes and protective shoes, also known as safety footwear. Usually refers to footwear that protects feet and legs from foreseeable injuries worn in different workplaces. Safety toe shoes mainly include protective shoes, insulated shoes, anti-static shoes, conductive shoes, steel shoes, rubber boots, cold shoes, etc.
Safety shoes, according to the needs of different industries and types of work, use different materials to produce safety shoes with oil resistance, acid and alkali resistance, insulation, toe resistance, puncture resistance, etc., waterproof, non-slip and anti-corrosion. , It is suitable for mining, steel, smelting, chemical, electric power and other industrial environments, with stable and reliable quality and beautiful appearance. The products are sold all over the world.
The upper is mainly made of cowhide and leather;
Cowhide refers to the skin of a cow. The characteristics of cowhide are that the pores on the leather surface are small, round, uniform and tightly distributed, the leather surface is bright and smooth, the texture is plump and delicate, and the appearance is flat and soft.
Leather upper is a general term for man-made materials (such as PVC and PU). It has a variety of colors, good waterproof performance, neat edges, high utilization, and the price is cheaper than real leather.
I am here to guide you through multiple choices. You will experience outstanding materials, weight and quality. Here are the top ten best leather safety shoes online:
1.List of Best Leather Safety Shoes in Teenro® Guide:
1.1Waterproof anti-slip anti-puncture

 

leather work boots
Details On Teerno®
Toe guards and anti-smashing steel toe shoes. Mainly to prevent objects from smashing the feet and toes. Such as rolling drums when carrying heavy objects or loading and unloading materials, heavy pipes hitting the feet or accidentally kicking sharp metal plates, etc.
The front toe cap of the shoe is lined with a metal material with good impact resistance, high strength and light weight. Its strength and impact resistance must be tested and reach the specified standards before it can be used.
This best leather safety shoes ,have two style model. Medium boots and Medium cotton shoes. This shoe can be worn in four seasons. The layer of leather on the upper is waterproof,very suitable for workers. Safety shoes leather steel toe cap play the role of anti-smash for workers safety. And this leather work shoes can also be worn in daily life. Although they are safety shoes, they are very lightweight and will not be burdensome to wear.
1.2
Composite toe leather shoes for
anti puncture (men safety boots
)
Details On Teerno®
This is best safety toe shoes reviews with novel design, there are four models to choose from:
1.high top or low top;
2.black or brown.
The frosted microfiber leather upper is eye-catching.
The most special design of this best leather steel toe boots is on his sole.Using a special model, made a non-slip shape on the sole.Moreover, the raw material for the sole is made of the most primitive beef tendon sole, which is relatively resistant to wear and acid
The steel midsole of this shoe uses the common Kevlar, which has a strong anti-puncture function. It is especially suitable for workers on the construction site to protect their feet.In addition to the Kevlar midsole, there is a layer of insole inside. This leather work shoes for men have a breathable insole inside that will make the wearer very comfortable and will not sweat.
1.3 Fashionable

 

safety boots for men
Details On Teerno®
This ankle leather safety shoes looks very nice. Black work boots is always a classic style, with Indestructible steel toe and steel plate to better protection of toes and soles.
It's a new fashion trend for safety shoes, comfort comes from under the feet. There is a circular logo on the side of the shoe, which is personality designed by the designer, it's a very stylish design. Text elements are also added to the shoes.
Another special feature is that the sole of this shoe is very soft, although it contains a Kevlar bottom, it does not appear particularly hard. The sole is made of rubber as a material. Rubber material will not wear out even when walking on iron filings, and it has strong wear resistance. It also has anti-slip function.This is also a feature of best safety toe shoes.
This kind of black leather work boots are my personal favorite. They can also be worn in daily life and work place . They are also very fashionable and comfortable to wear without squeezing your feet.
1.New Design Mdel

2.Soft Upper

3.Wearable Rubber Sole
1.4 Winter men's waterproof work boots
Details On Teerno®
It is
winter
season and the temperature in many areas is gradually decreasing. At this time, you can choose shoes with velvet inside. You can choose this one that is warm and beautiful. This
steel toe safety shoes
for men upper is made for genuine leather, which is not afraid of water,very comfortable and wearable leather.
The outsole of the insulated
leather work boots
is also rubber. A non-slip model is made on the outsole, which will not slip when walking on the oil, and also plays a role of shock absorption. The color of the sole is also a bright red, which contrasts with the black shoes upper. The color matching is very nice. And anti-smash and puncture,anti-still life collision.
This is a winter safety boots, which will definitely keep warm.The inner lining contains thick warm long fluff, it is not afraid of cold in winter.This safety leather shoes is lightweight.Although they are winter boots, they are very light and not heavy, making them suitable for daily wear. Work and life are correct,safe and beautiful.
If you are looking for such a versatile safety shoe, you can try this one. High quality, good stylish, many functions, and long using time.
1.5 Steel toe cap for shoes in factory
The upper of this safety shoes is made of waterproof and non-slip cowhide, which is not afraid of sparks and protects your feet. This best
safety toe work shoes
also has a widened steel toe design. The custom-made widened 4mm European standard steel head is suitable for Asian feet and avoid toe pinching.
The steel sole of the best safety shoes is the kevlar sole commonly used in safety shoes. The sturdy anti-puncture midsole is the best quality steel plate with military boot-level anti-puncture performance.
The inner lining is a comfortable sandwich lining, which is dry 360 degrees, breathing is as refreshing as breathing, and is instantly absorbed. The outsole is a wear-resistant solid sole, which is meticulous, flexible, foldable and comfortable to wear.
1.6 High-top anti-smash and anti-puncture best safety toe shoes
Details On Teerno®
This style leather safety boots look very cool.Anti-smashing and anti-stab function, with quality inspection report verification.It's a Tough Guy Tooling Shoes, looks very beautiful and handsome.
Anti-smash and anti-puncture protection feet:It integrates anti-smashing, stab resistance, high temperature resistance, abrasion resistance, and non-slip resistance, allowing you to face complex working environments and freely move.
About the upper: It has certain characteristics of natural elasticity and craftsmanship, delicate and soft to the touch, keeping the shoes dry and clean.
This leather safety boots have two styles to choose from, with velvet style and four seasons. It is suitable for people in various regions,Walking in woods or construction sites, you don't have to worry about hurting your toes, and you can keep it fashionable.
1.7 Anti-smash classic steel toe safety shoes

Details On Teerno®
This is a simple design but very popular low-top safety shoes. It has European standard high-quality plastic-sprayed steel toe cap, widened toe design, high-quality plastic-sprayed steel plate, and thicker plate. The steel head can withstand impact 200J, resist pressure up to 15000N, and steel plate can withstand piercing force of 1200N.
The sole is made of rubber, wear-resistant and tortuous, non-slip and constant sole.The bottom is a geometric tooth pattern, with good grip, Iron filings and durable.The meticulously made leather texture is a pursuit of high-value style.The inside is a honeycomb, breathable inside, which is breathable and comfortable, dissipates heat, and feels comfortable on the feet.
The steel toe is made of national standard steel, with a thicker version of the steel bottom, with a puncture resistance greater than or equal to 1100N. The smooth paint surface can filter water and prevent water from contacting steel.The edge is covered with rubber material to prevent friction from cutting the upper.
1.Static pressure resistance of steel toe cap>15000N
2.Puncture resistance of steel plate>1100N
1.The upper is not strong
1.8 Casual outdoor leather hiking steel toe boots
It's a soul collisionbetween security and trend.It is safer to walk in the fashion of restoring the ancients.safety and tide coexist ,it has high face value and more authenticity ,anti-smashing, anti-stabbing and retro-walking ,lead a more comfortable defense ,good material determines good quality。
1.Waterproof and oil-resistant shoeslaces,oxford wire drawing process
kevlar midsole,oxford slip-proof bottom,An1 Widening European Standard Steel Head .Built-in 2mm widened European Standard steel toe head ,avoiding the truoble of gtind-ing shoes,and effective anti-smashing and anti-pressure guard feet,widening 2 mm standard steelhead ,comfort does not grind your feet with rubber edge , Anti-smash and compression resistance  ,this  is a handmade shoes craftmanship,more suitable for human feet,comfortable to wear ,he use of inner and outer edges. the upper and sole of the shoes are firmly clipped together in a double sewing way,which is strong and thick.
2.Soft and wear-resistant tendon base
Bull tendon base material is generally superior,soft heel and good wear resistance,more durable,waterproof, slip-proof and safe walking.Groove grab tire teeth ,soft folding, long standing is not tired,antiskid damping.Anti-skid drainage grab pattern .stable walking without fear of water and oil.
This section is divided into four seasons and cusyomized cashmere
Four seasons: comfortable leather is used inside to make your feet more comfortable and dry,suitable for all seasons in china. With Cashmere:inside can be customized 360 degreefull wool,soft and warm easy to use.resistance to sub-zero temperature in winter.
1.9

 

Men's waterproof work boots

 

with injection molding solid sole 
This safety shoe has a safe and comfortable steel toe cap source design, and the steel toe cap is added for safety and comfort. Selected high-quality and high-quality cowhide, after rigorous cutting, make work shoes that are comfortable and breathable. High-quality cowhide is thicker and firmer in texture. It has a slightly harder feel and is not easy to wear out. The leather surface is specially processed to strengthen the acid and alkali resistance of the leather surface.
All-round safety protection, thick geometric pattern outsole, and stainless steel plate inside, truly have the functions of anti-puncture, anti-skid, anti-seismic, and wear-resistant.
1.Anti-puncture function:
thickened anti-puncture stainless steel plate, truly puncture-resistant, anti-puncture, non-slip, wear-resistant, and fully protect your feet.
2.Strong acid and alkali resistance:
The high-quality thick soles have passed various rigorous pH experiment tests. The soles are designed with a high waterproof platform, which is effectively suitable for various harsh working environments.
3.Strong anti-skid and abrasion resistance:
The sole has been produced at high temperature and has strong abrasio? n resistance and durability. The multi-angle tire pattern design effectively improves the grip of the sole.
1.10 Wear-resistant cowhide steel toe safety shoes for men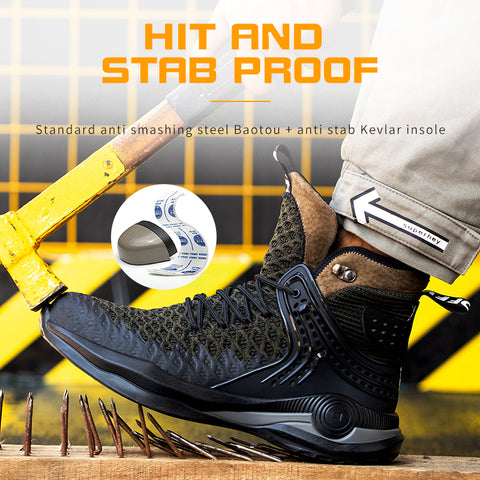 Black is the atmosphere, full of vigor, and others think that it embodies the relaxed leisure and safety to the extreme.The high elastic sole can effectively absorb energy.
The PU injection molded sole is comfortable, soft, and has good air permeability, effectively controlling the humidity of the sole, and the sole is acid and alkali resistant.
Only the injection process is used for the sole and upper, which abandons the traditional adhesive process and has excellent waterproof function.
200J impact resistance, in line with global high standards for safety shoes, wide steel toe cap, more comfortable toes.
This low-top safety shoes with design features integrates all functions into one:
The heightened heel can effectively cushion the impact and protect the feet; cowhide upper, breathable and comfortable,Breathable and wear-resistant inner lining: soft and comfortable, fit your feet; Wear-resistant shoelaces: non-slip and wear-resistant, allowing easy adjustment of wearing elasticity, and at the same time embellishing the upper with a little sporty style;The outsole is insulated 6KV through electrical insulation treatment; Using PU dual-density technology to infuse an integrated outsole to improve walking comfort and extend the life of the sole.