Winter Safety Boots: Warm and Lightweight
Winter can be a difficult time for people who must work outdoors. With temperatures ranging from extremely cold to dangerously warm, snow and ice turning surfaces slippery, and wildlife becoming more active, it's important to have the right kind of footwear to keep your feet warm and protected. Winter safety boots are one of the best options for winter footwear, as they are specifically designed to provide insulation and traction in environments with treacherous footing.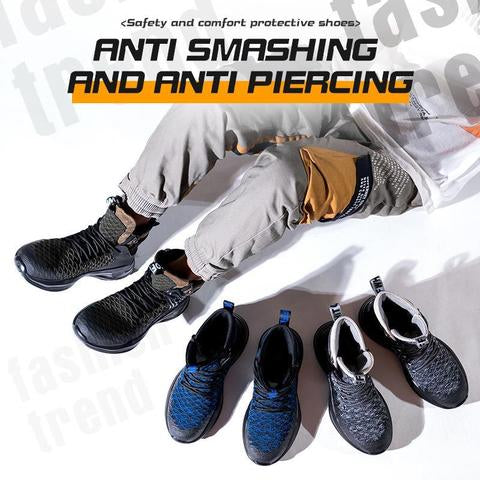 Winter safety boots are constructed with warm and lightweight materials designed to keep feet warm and dry in cold weather. Typically made from thick, waterproof leather, synthetic materials, and insulating liners, winter safety boots are insulated to retain heat without adding bulk or weight. The insulation helps to keep out water, so your feet stay dry and warm even in wetter conditions. The outsoles of winter safety boots are also constructed with slip-resistant treads and materials, so that you can navigate slippery and icy surfaces safely.
Oftentimes, winter safety boots also come with extra features which can make them an even more ideal choice for working outdoors in winter weather. Some options may feature waterproof zippers, which make it easier to slip the boots on and off without needing to take them off completely. Additionally, many boots will come with boot laces and straps for a snug and secure fit in order to make sure your feet stay securely planted as you move. Additional features, such as steel toe caps and footbeds lined with padded foam, offer further protection from impacts and keeping feet comfortable even after long hours of working.
Not only do winter safety boots keep people safe from slips, but they are also designed to look great. These boots come in a variety of colors and patterns, from bright colors for those needing a little extra visibility in low-light conditions to more subdued colors for a more professional look. Additionally, new materials, such as memory foam and leather, offer an extra level of comfort and style.
The weather doesn't have to stop you from working in the winter months. With winter safety boots, you can remain comfortable and safe on any winter terrain. Highly insulated, lightweight, and with slip-resistant outsoles and additional features, winter safety boots are built to keep your feet warm, dry, and safe in any winter combination of snow, ice, rain, and wind. Get ready for the cold weather and equip yourself with the right winter safety boots to make your winter work days safer, easier, and more enjoyable.
Winter can be a treacherous time, but with the right winter safety boots you don't have to worry! Not only are these boots designed to keep your feet warm and dry, they are also super lightweight so you can avoid feeling weighed down while you brave the cold and icy weather. Plus, they come in a variety of warm shades that look stylish when matched with your favorite winter jacket. So go on and take on Muther Nature's toughest challenges in confidence - put on those winter safety boots and feel the warmth
Teenro Safety Shoes Wins Red Dot Design Award 
September 20, 2020, Montreal, Canada– Teenro Safety Shoes is excited to announce that our aviation and e-commerce production has won the prestigious Red Dot Design Award for its exemplary product quality and design. 
This official accolade sets Teenro Safety Shoes apart from the competition because of its rigorous selection process. Annually, only the most innovative and creative designs from different categories from up to 60 countries worldwide, receive the coveted award. 
The jury awards the Red Dot for the outstanding design quality in particularly innovative products for life, work and leisure. "We are greatly honored and humbled to accept this world-renowned award," says CEO Jane Doe. 
With over 20 year's experience in the industry, Teenro Safety Shoes has perfected the craft of producing patent leather safety shoes that ensure the highest standards of safety as well as style. Our product range consists of classic and customised designs that safeguard against industrial hazards while maintaining comfort. 
The Red Dot Design Award is just the beginning of our journey; we are committed to continuing to provide our customers with innovative and stylish safety shoes that meet their needs.
About Teenro Safety Shoes 
Teenro Safety Shoes has been a leader in the custom safety shoe industry for over two decades and is dedicated to providing its customers with the best product and