Jackery SolarSaga 200W Portable Solar Panel
Paired with Jackery Explorer 2000 PRO: It takes 2.5 hours to fully charge a Jackery Portable Power Station Explorer 2000 PRO via 6 SolarSaga 200. The portable solar panel is additionally compatible with other Jackery power stations.

Excellent Conversion Efficiency: Advanced solar cells on the solar panel provides a higher conversion efficiency of up to 24.3%, outperforming comparable solar panels - producing more power under similar conditions.

Instant Setup: With a few seconds to setup, the solar panel stands firmly and securely thanks to its 3 kickstands. The recommended angle ensures optimum absorption of the sunlight, making it the perfect companion for outdoor travel.

Convenient Carrying: A practical carrying bag is included for easy transport. Magnetic pads on the solar panel allow the solar panel to be folded up tightly and carried on your favourite off-grid journeys.

Built to Last: The ETFE-laminated case ensures the solar panel is durable enough for a prolonged lifespan. Additionally, the IP67 Waterproof Rating allows it to withstand harsh weather.
Warranty: A 3-year warranty on regular purchases
SPECIFICATIONS
SolarSaga 200W :Peak Power 200W
Power Voltage:18V
Power Current:11.12A
Open Circuit Voltage:23.2V
Short Circuit Current:11.76A
Operating Temperature Range:-10-65°C(14-149°F)
Dimensions(unfolded):540x2320x25mm
Dimensions(folded):540x615x40mm
Q: What kind of battery can be charged by these solar modules
A: 1, Jackery Explorer series
2, Sealed lead-acid battery
3, Colloidal lead-acid batteries
4, The open lead-acid batteries

Q: How to clean the solar surface?
A: Dust and dirt on the surface should first be removed using a soft brush. Use a damp cloth to wipe the surface of the solar module to remove any remaining dust or dirt. Any guano or other adhesive should be removed as soon as possible from the solar surface to avoid a reduction in performance.

Q: How to clean the solar surface?
A: Yes, the product meet IP67 water proof, which maximize the lifespan of the module, it should not get wet.
Free shipping: 30-day returns
USPS Dispatch: 3-7 days
Please note :Currently orders to Hawaii, Alaska, Puerto Rico, and other US islands can't be delivered.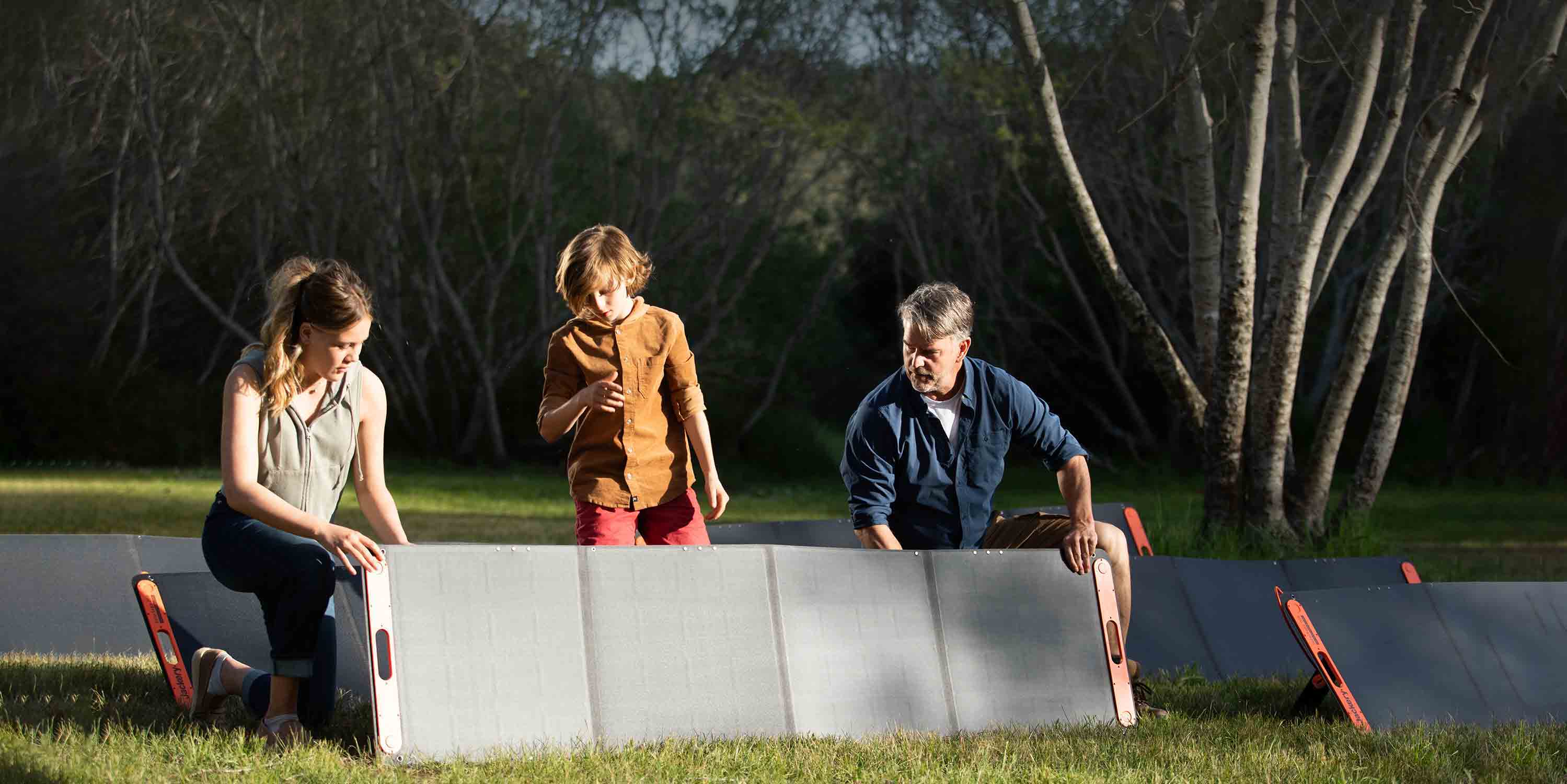 Recharging Time Comparison

Convenient Carrying

The panel features magnetic pads so it can be folded up tightly, allowing for convenient transportation.

Instant Setup

At a few seconds to set up, the solar panel stands firm thanks to its 3 kickstands.

Built to Last

The IP67 Waterproof Rating allows the durable material made solar panel to withstand harsh and wet weather.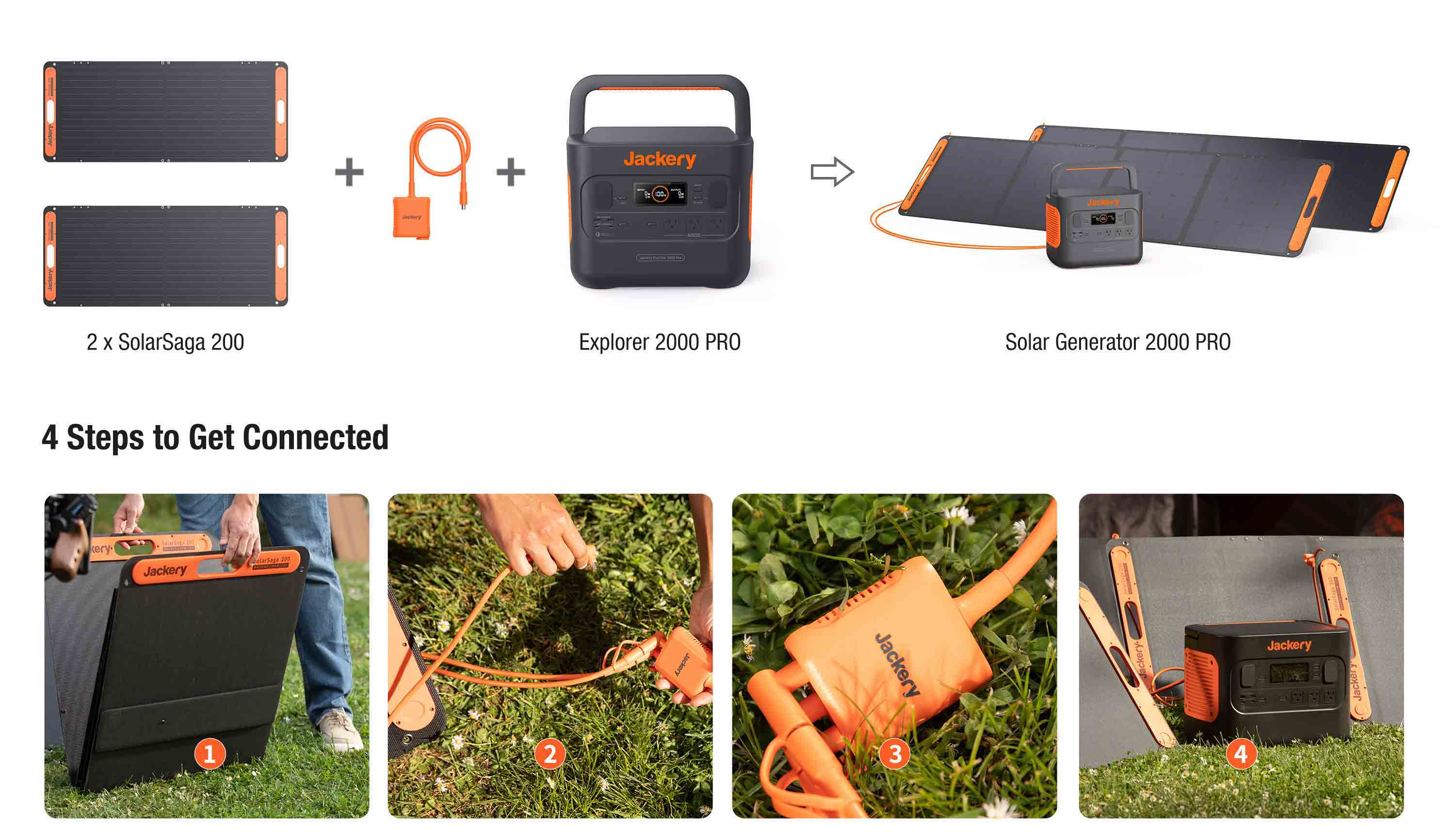 Portable Power Station FAQ
Q1: Can the product be brought on board a plane?
A: No, because this product is a lithium battery. According to the International Standards & Regulations for the Transportation of Hazardous Materials, no lithium batteries with more than 100 watt hours may be allowed in carry-on bags.

Q2: Why is there sound when using?
A: The product adopts an air-cooled system, and the built-in fan helps the product to cool better. Slight noise when using is normal.

Q3: Can I charge the Jackery Explorer 2000 Pro while a device is plugged in?
A: Yes, you can. When charged with AC input, it supports a maximum power output of 1800W. When charged with AC input + DC input ( i.e. solar charging or car charging) simultaneously - it supports a maximum power output of 1800W. When charged with DC input (i.e. solar charging or car charging), it supports a maximum power output of 2200W.

Q4: How to keep this product when it is not used for a long time?
A: If the battery is to be unused for a long time (more than 3 months), it should be maintained at 60-80% of the rated capacity (it's recommended to check and charge every 3 months). Store it in a dry and cool place with temperature range between 0 ℃~40 ℃, and humidity 0%~60%. Avoid contact with corrosive substances, and far from fifire and heat sources.


Q5: Can it be used to jump start a car?
A: We are very sorry, but it cannot be used to jump start a vehicle. However, it can be used as power supply for automobiles. You can recharge the car via a Jackery power supply cord, which is available for purchase separately.

Q6: Why is the output to the low-power device automatically turned off after several hours?
A: In case of forgetting to turn off the output (causing the battery to drain), the Low Power Mode will be turned off by default. That is, when the port is connected to a small load device(AC Output≤25W, USB Output≤2W, Car Port≤2W) for 12 hours, the device will automatically be turned off. In case you want to resume recharging, press the car port button/USB button/AC button to restart the device. If you want to turn on the Low Power Mode, long press the AC Button and DISPLAY until the Low Power Mode icon appears on the screen. If you need to turn off the Low Power Mode, repeat the above operation until the Low Power Mode icon disappears on the screen.

Q7: Why does the USB Output operation indicator light up, the load device has no charging input or can't work normally?
A: Please check whether the load device is broken firstly. If the device is normal, press the USB Button to restart the output.

Q8: What's included in the packing list?
A: The following items are included: AC power cord, car charger cable, user manual, brand stickers and envelope.
Warranty / Return Policy
1. For 30 days after customer receipt, customer may apply for a return and refund for any reason. Supplier will provide a full refund of the product after receipt of the returned good, and provide customer with a return shipping label.

2. Supplier provides a 24 month limited warranty from date of purchase covering exchanges due to manufacturing defects.

3. To request a return or submit a warranty claim, email picture/video evidence, customer name, and order number to info@teenro.com.

Warranty & Return
Limited Warranty
Teenro And Jackery Co-branded Collaboration Portable Power Station, warrants to the original consumer purchaser that the Jackery product will be free
from defects in workmanship and material under normal consumer use during the
applicable warranty period identified in the 'Warranty Period' section below, subject to
the exclusions set forth below.
1.Warranty Period
The warranty period for Jackery power products is 24 months. In each case, the warranty
period is measured starting on the date of purchase by the original consumer purchaser.
The sales receipt from the first consumer purchase, or other reasonable documentary
proof, is required in order to establish the start date of the warranty period.
.

2.Exchange
Jackery will replace (at Jackery's expense) any Jackery product that fails to operate during
the applicable warranty period due to defect in workmanship or material. A replacement
product assumes the remaining warranty of the original product.
For any exchange request please send to info@teenro.com firstly, Jackery will
assess whether it comply with our exchange policy. Then customers need to stick a label
sent by Jackery including necessary information on the return item for the exchange
request, after return item is received, Jackery will send a replacement and tracking
information to the customer within 2 business days.

3.Refund
Jackery offers a 30-day money back guarantee for goods. We are confident that you will
love your new Jackery product. However, if you are unsatisfied for any reason, simply let
us know within 30 days. Once we receive the product and confirm the validity, we will
refund the full purchase price.
For any refund request please send to info@teenro.com firstly, Jackery will
assess whether it comply with our refund policy. Then customers need to stick a label
sent by Jackery including necessary information on the return item for the exchange
request, after return item is received, Jackery will inform TEENRO refund is confirmed.

4.How to Return / Refund
Workflow: buyer contact Teenro --->Teenro email info@teenro.com -->FedEx Return shipping label -->buyer stick the label on the return item and send
to the Fedex station --> Jackery receive the return item and confirm the return/refund

5.Return Policy Basics

lReturn all items using the original packaging (if available). The delivery form or invoice
must be attached to the returned items.
lItems must be returned completely, including all components.
lItems must be sent to Fedex station within 4 working days after Jackery's shipping label
is received by the buyer.
lJackery will send the replacement with 2 working days after the returned item is received.
lJackery have the right to refuse replacement/refund if the returned item is different from
the order's, or if the returned item is not delivered to Jackery successfully ( For example,
the returned item is missing or due to any other reason)

6.Exclusions
Jackery's warranty/Exchange/Refund does not apply to:
·Misused, abused, modified, damaged by accident, or used for anything other than
normal consumer use as authorized in Jackery's current product literature.
·Attempted repair by anyone other than an authorized facility
·Any product purchased through an unauthorized channel.
·Jackery's warranty does not apply to the battery cell unless the battery cell is fully charged
by you within seven days after you purchase the product and at least once every 6 months
thereafter.
Customer Support : info@teenro.com,
7.Limited to Original Consumer Buyer
The warranty on Jackery's product is limited to the original consumer purchaser and is
not transferable to any subsequent owner.
We donate with every order
You shop, we give.

As an independently owned and operated business, we have the freedom to support a cause we believe in and impact the world in a positive way. Giving back is important to us and we want to share that passion with you.

Through our ShoppingGives programme, we have been able to build a better business by connecting our customers with non-profit organisations around the world.

For every purchase you make, we are proud to donate 1% of the order amount to a 'non-profit' partner of your choice.


It's a simple process: for every purchase made on our website, we will donate at least 1% of the price paid to the non-profit organisation of your choice.

There are 150 different non-profit organisations for you to choose from. Simply click on the "SELECT" button in the pop-up box and select the non-profit organisation you wish to purchase from


Teenro is proud to support these non-profit organisations and to help give back to those in need. Overall, as a company we are committed to helping those in need and we donate at least 15% of our net profits to multiple non-profit organisations. Just by shopping at Teerno, you're making an impact.

Thank you for helping us do our part to support our planet and the people who live on it.